Heat Stress Meets "The Cool Tube®" Solution
No need to be hot and bothered anymore! The development of "The Cool Tube®" MKII ensures that you can work both comfortably and safely.
Meet the solution
Heat Stress:
The sum of the environmental and metabolic heat loads on the body
Hierarchy of Control – Elimination "Just Add Chilled Air"
Thanks to a phenomenon of thermodynamics, we designed, developed and are manufacturing mine compliant, compressed air driven,  portable "air conditioners", capable of delivering super cooled additional air to cool the workplace.
"The Cool Tube®" MKII, devices weigh approximately 8KG and when supplied with 7 Bar /100 PSI of compressed air, delivers super chilled air, at a rate of 18 – 70L/Sec depending on the model used.
How it works
With no moving or maintainable parts, The Cool Tube® MKII standard setup will drop the compressed air supply temperature by a pre-set 24℃ – 30℃ to give the best all round performance curve, of volume to temperature ratio. Standard specifications of The Cool Tube® MKII as below.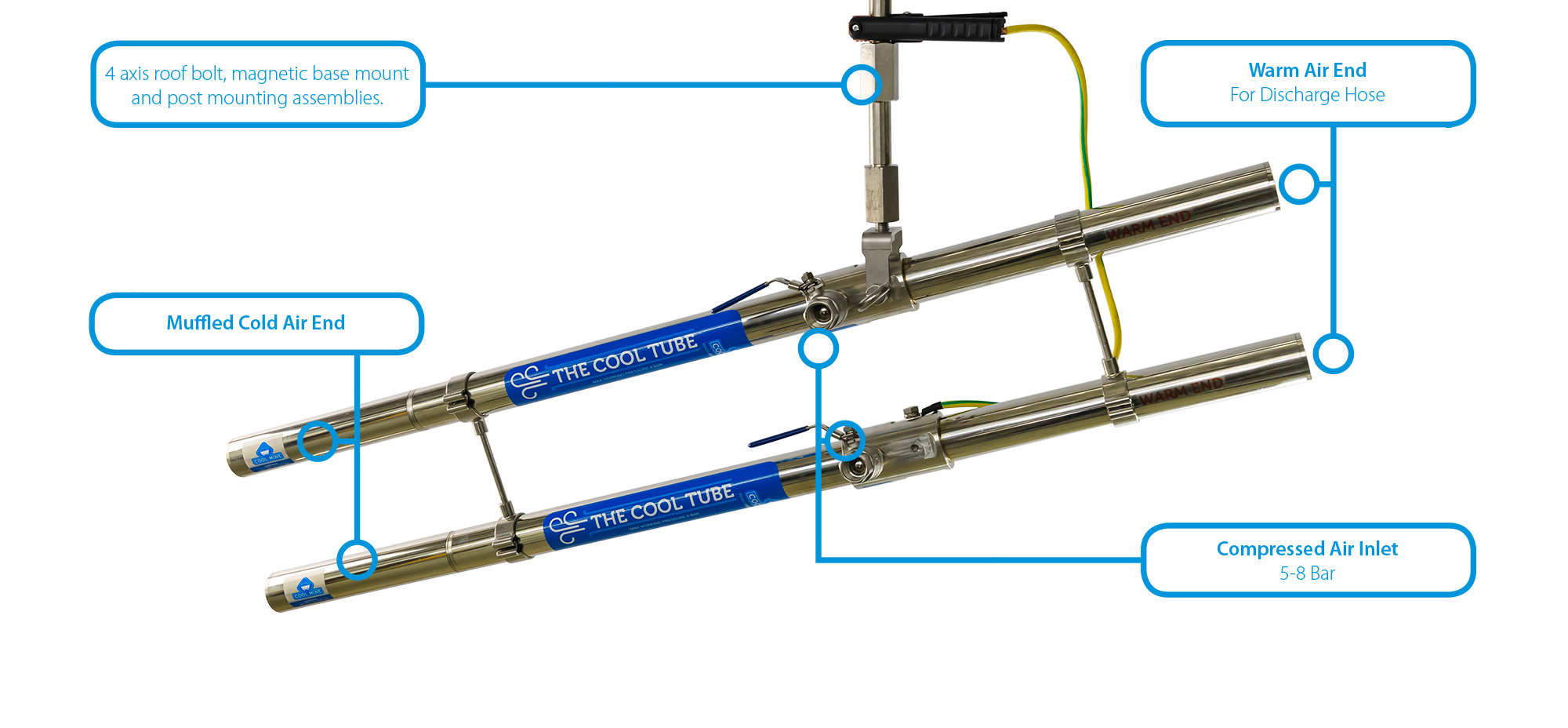 MKII Cool Tech Specs:
| | | | | | |
| --- | --- | --- | --- | --- | --- |
| Model Number | CUSTOM | MKII120 | MKII150 | MKII180 | MKII210 |
| Ideal Inlet Pressure | 5 – 8 Bar | 5 – 8 Bar | 5 – 8 Bar | 5 – 8 Bar | 5 – 8 Bar |
| CFM @ 6 Bar Inlet Pressure | TBA | 140 CFM | 170 CFM | 200 CFM | 230 CFM |
| Tested Air Inlet Temp | TBA | 25°C | 25°C | 25°C | 25°C |
| Cold End Discharge Temp  | TBA | -6°C @ | -5°C @ | -2°C @ | -1°C @ |
| Cold End Discharge Temp Drop | TBA | 31°C | 30°C | 27°C | 26°C |
| Warm End Heat Shield Surface Temp | TBA | 44°C | 44°C | 45°C | 46°C |
| Warm End Air Temp | TBA | 57.5°C | 59.5°C | 62°C | 64.5°C |
| Noise level at 3m with hose and 250mm silencer. | TBA | 85 dBA | 84 dBA | 86 dBA | 88 dBA |