AIR2VOLTS – Generating Intrinsically Safe Uninterruptible Power From An Underground Coal Mine's Compressed Air Service.
Posted on September 7th, 2022
EMERGENCY RESPONSE PREPAREDNESS IMPROVEMENTS
Annual Level 1 exercises are a comprehensive test of the Queensland underground coal mining industry's preparedness, to respond to a major emergency or disaster in an underground coal mine. Invaluable learnings and recommendations are taken from these annual exercises, for the industry at large to benefit and improve from.
As a supplier and support company for this great industry, providing solutions to gaps or areas in need of improvement is paramount. The common areas for improvement identified from the Level 1 exercises, shortfalls from recent mine emergency events industry wide and industry accepted operational limitations, are the basis for the development of AIR2VOLTS.
The 2 key areas for improvement are –
Improve mine wide coverage of underground people and vehicle tracking, communications (Wi-Fi) and messaging, during normal operations and emergency scenarios, with and without normal mine underground electric power.
Improve mine real time gas monitoring capability and durability when mine underground electric power is lost, not accessible or available.
With the reliability and extensive mine wide installation of the compressed air reticulation system already in place, and part of normal underground coal mining development, utilising the compressed air to generate intrinsically safe electric power with additional battery backup, not only extends the availability of gas monitoring and communications systems when normal underground electric power is lost, it also enables monitoring and communications networks to be installed in areas where previously electric power has not been available, accessible or geographically to remote to install.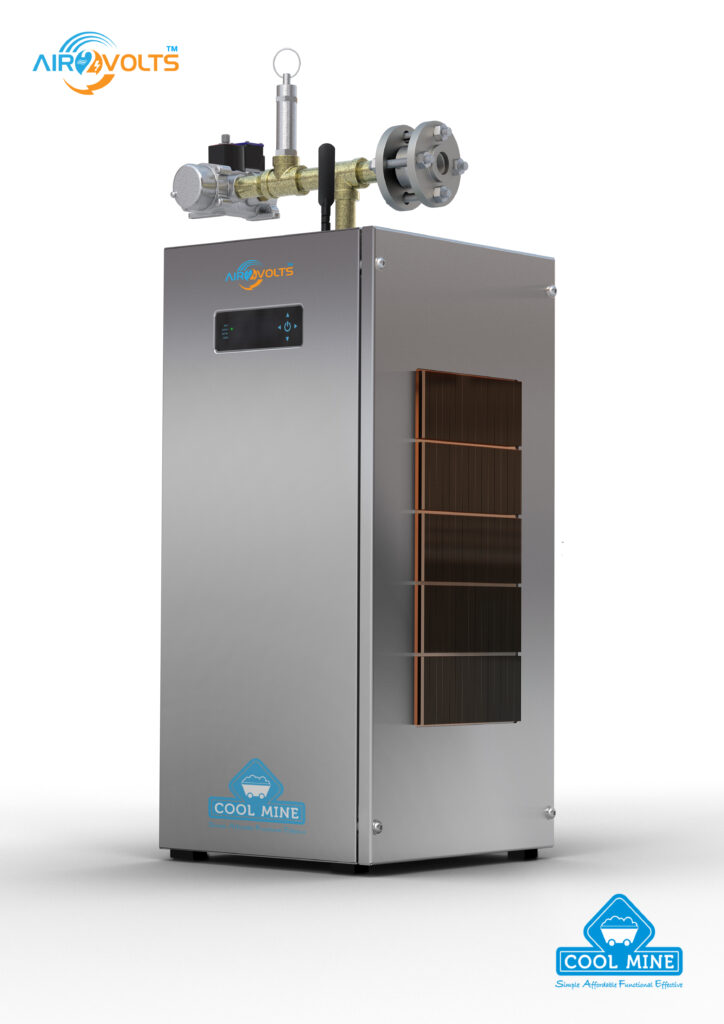 Safety / Emergency Response –
• Reduced hazards and risk with reduced electrical reticulation in hazardous atmospheres.
• Alternative and extended operation of a reliable power supply for lifesaving monitoring, tracking and communications equipment underground, during and after mine emergencies, emergency response or power outages.
• Peace of mind utilising an Intrinsically Safe Uninterruptible Power Supply (UPS), that can be installed and remain fully operational in an ERZ 0 atmosphere, without the reliance of mains power, when needed.
Operations –
• Availability and reliability of an underground mines compressed air reticulation, in comparison to underground electrical power reticulations many interlock trip functions and exposure to nuisance trips.
• Eliminate Wi-Fi "blackspots" adding to mine unscheduled downtime, with increased Wi-Fi tracking communications ability, with key mine maintenance or statutory personnel, during operational breakdowns or mine statutory inspection situations.
• Extensive location and life of mine installation of compressed air reticulation by nature of the methods of mining.
Capital –
• Reduced capital and operational expenses with the costs associated with electrical reticulation and equipment, installation, and maintenance.
• Harnessing the underutilised energy source of compressed air in underground mining, in replacement of expensive and complicated HV electrical reticulation, to power low energy devices for monitoring and communications.
• Allowing the ability to rethink the way a mines electrical infrastructure is planned and deployed.
Other stories